The Math
The basic champ popularity equation is pretty simple:
Champion Popularity = # of unique players who played a champion x avg # games players play on a champion
Simplified,
champion popularity = breadth x depth.
In this equation, breadth is the number of unique players who played a champion during any given time period (such as a patch). If you, your friend, and your feeding top laner all played Riven, you're collectively adding to Riven's breadth score for that time period.
Depth is the average number of games played on a champion per player during any given time period. If you're the only Yorick player in your crew, but you play the shit out of him, you're single-handedly contributing to that champion's depth score.
Breadth and depth can be used as two axes of a graph, and each of the four quadrants created represent a different type of champion popularity… or unpopularity.
It looks like this: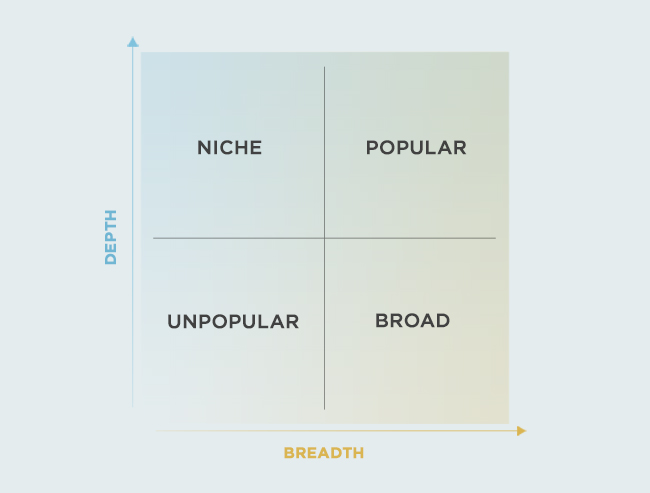 Popular and unpopular champs are pretty straightforward. We see popular champs in many games (and even in recent Clairvoyance Blogs); they have high breadth and depth scores.
Unpopular champions are the ones most players rarely think about, except maybe if they're strong or getting reworked, like Evelynn. Unpopular champions score low in both breadth and depth (no surprises here).
Niche champions show up in games occasionally, and when they do, it's likely a one-trick who'll be a pain to deal with, like an Illaoi main. Niche champions score high in depth but low in breadth.
A broad champion is often relatively simple to play and understand, so more players might occasionally play them on a whim, like Annie. These champs rank high in breadth but low in depth.
It's worth noting that broad and niche champions can be similarly popular, but how they're popular differs greatly—one is through the number of unique players and the other is number of games per player.