Now for the new stuff! Let's jump into how the Fiddlesticks team transformed the concept art into something playable in game. Keep in mind that all work shown below is still very work in progress!
Fabricating a Monstrosity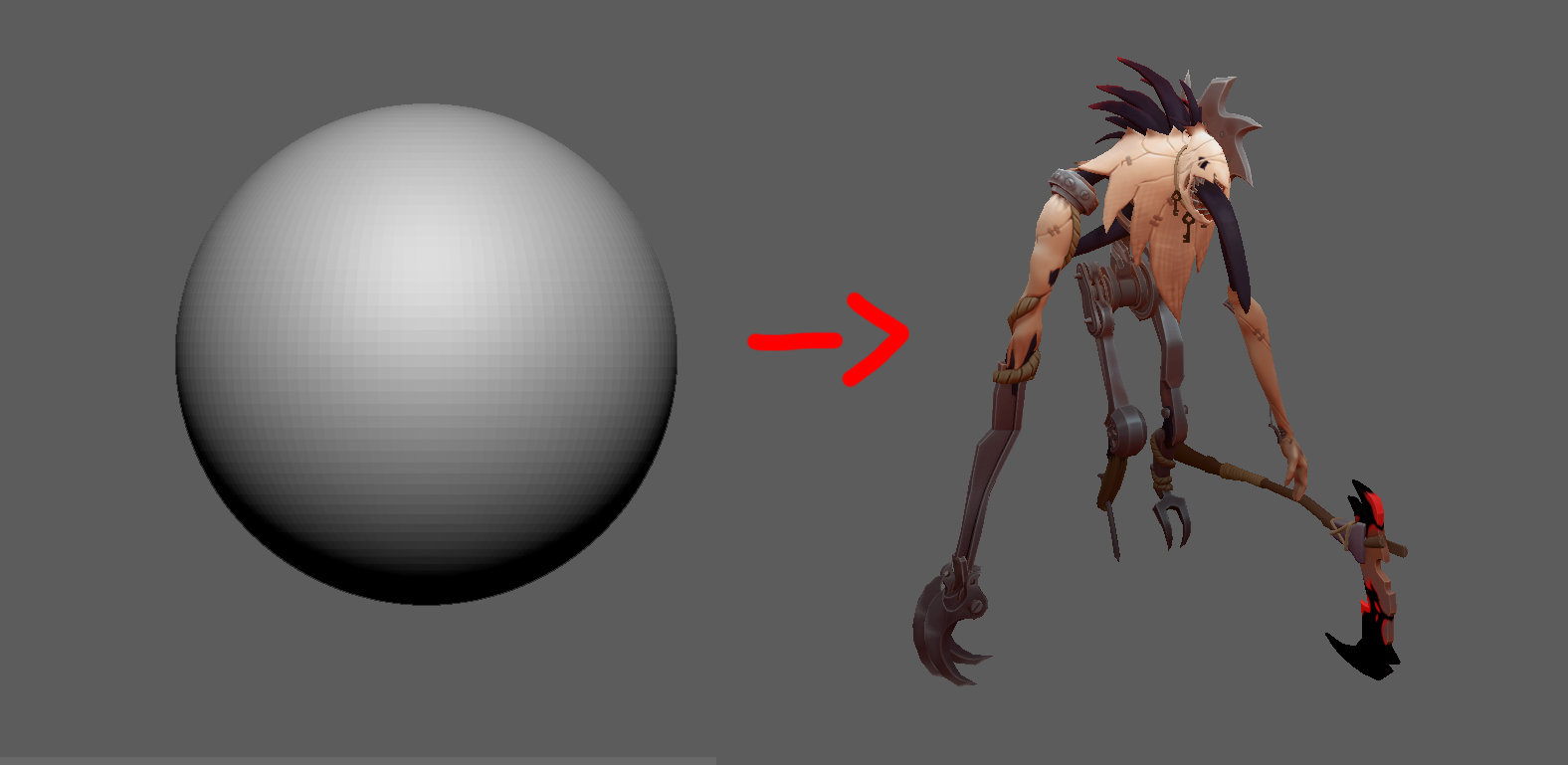 Step 1, step 2. EZPZ.
Jason "00Y00" Namgung, Character Artist: Modeling a character is two easy steps, you start with a sphere and then… final product. EZPZ.
On a more serious note, jumping into the Fiddle project, I was given an in-progress concept, and we had questions that needed answering. To name a few: How does its silhouette read in-game? How should it move? Are there any elements on the model that don't work? How are the proportions of its body parts? To find those answers, I started out with creating a really quick and dirty proxy model just to get it into the game.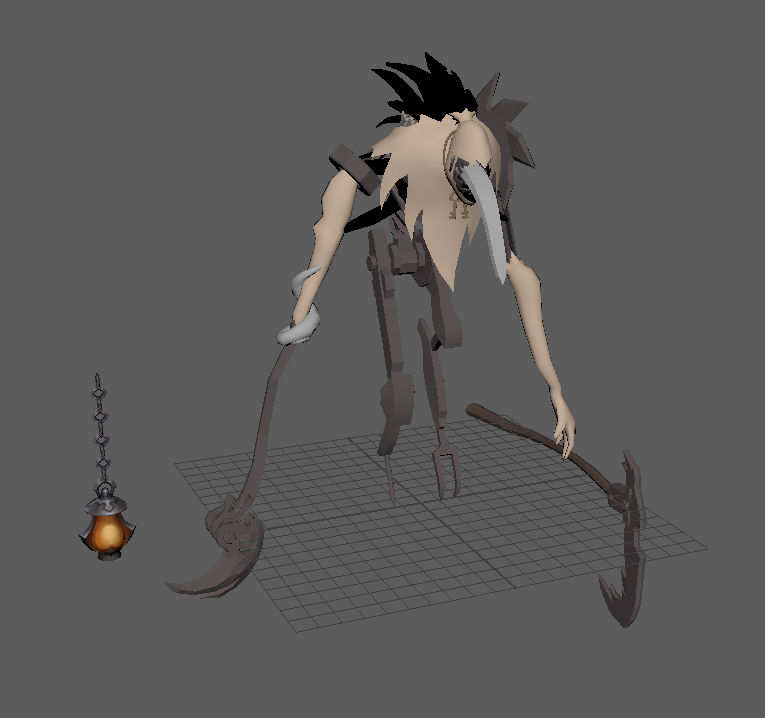 Proxy Model
Once we finished all our testing and experimentation during pre-production, we moved into the production phase and really started building out the final high-poly model. A high-poly model is a higher polygon density model that we can digitally sculpt on (feels very similar to clay). I started replacing all the super simple, basic geometry pieces with the more complex mechanical pieces that Fiddle is made out of. This is the part where 3d artists normally go crazy on tiny detailing, but for League, it's actually better for us to do really clean and simple sculpt with only big- and medium-detail shapes.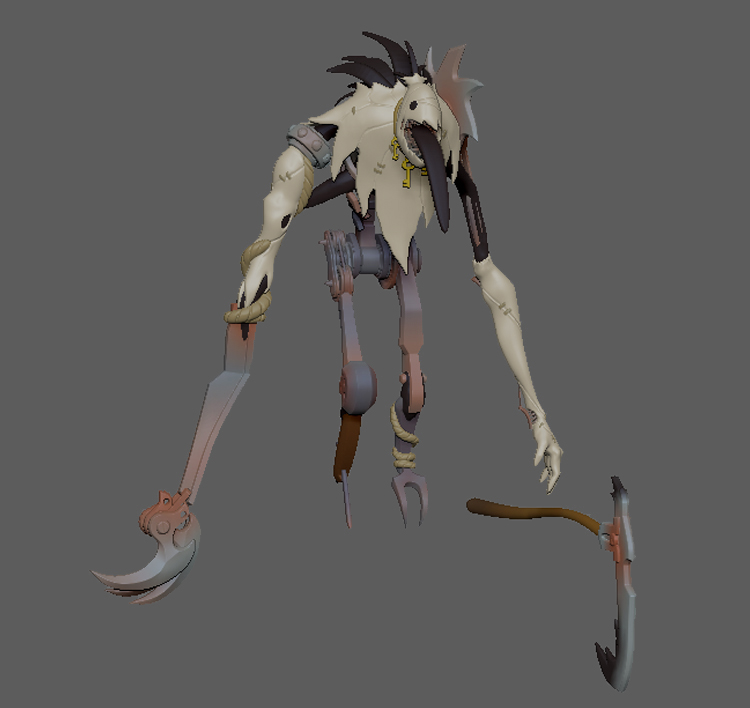 High-Poly Model
Once Fiddle's high-poly model was finished, I went back to the refined proxy as the base for the final in-game model, just to save on time and sanity… I mean, efficiency. I come from a sculpting background and have less experience in painting, so rather than starting off from scratch, I used multiple maps baked from of the high-poly model such as the Normal, Ambient Occlusion, Curvature, and more to push the character's textures further along. Then I throw it into a painting program and begin the "real" work of getting it to look good in League.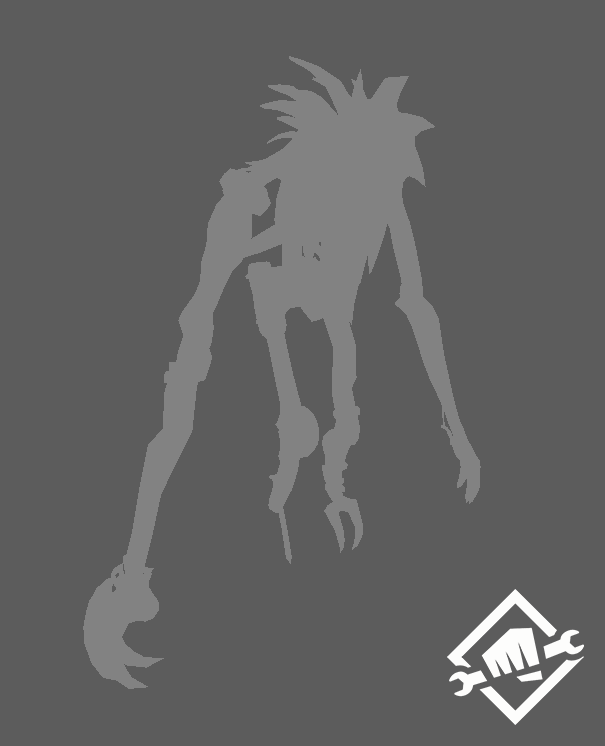 Work in Progress Fiddlesticks' Textures
Just sit and paint, paint, and paint some more 'til it starts looking better. Still a work in progress!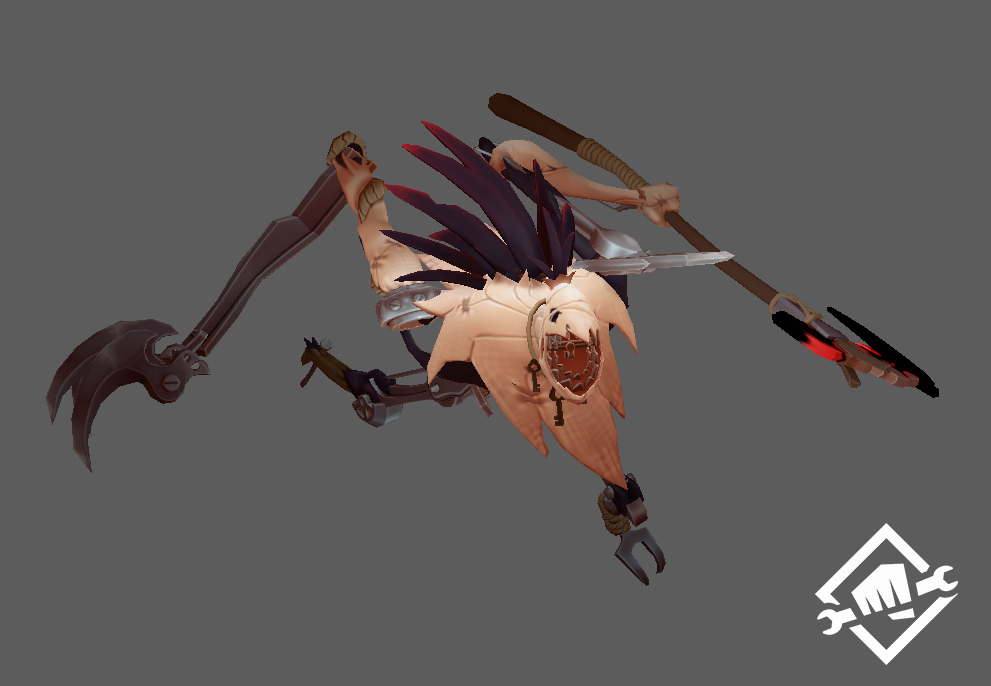 Current Progress on Fiddle Model (Subject to Change)
Coming to a nightmare near you.
Rigging an Eldritch Puppet
Dawon "Riot WONY" Lee, Technical Artist: As a tech artist, I make the rig, which is comprised of bones and controllers in the model—the stuff that enables animators to move around specific parts of the model and bring the character to life.
Normally, when I set up champions, I consider how the character moves naturally. For example, Yuumi's face rig can make natural and cute facial expressions, and Senna's ghost cloak setup flows in a natural way. However, developing Fiddlesticks' rig was different. When we started to set up Fiddlesticks, who's basically a puppet, my goal was to create a setup that supports both unnatural and natural movements that feel similar to a demon or ghost.
The animator suggested putting an unnatural head shake into the animation when Fiddlesticks moves. I thought it was a really cool idea so I added a rig element that we call "jiggle" that helps animators create naturally flowing animation along a chain of joints. We usually use it for parts such as capes and tails. We haven't used this function on champions' head and jaw, so I wasn't sure if it would work successfully. However, the results were exactly the unnatural head and jaw movements we wanted, making Fiddlesticks look eerie.