Senna is a complicated woman. Cursed by the Black Mist from childhood. Trained by the father of the man she would later fall in love with. Killed by a spoopy green ghost and trapped in his lantern for six years. And then… what? A suburban Demacian ranch with a white picket fence, a Pug'Maw to fetch the newspaper, and 2.5 kids?
No. That's not good enough for League's first support marksman. She wants more. An end to the Black Mist. Freedom from the curse that keeps the Mist hunting her. A chance to liberate all of the souls suffering within Thresh's lantern. And a really cool weapon to do it all with.
It Started with a Big F*&I@?$ Gun
"One of the reasons we loved Xayah and Rakan was because you could be an actual couple in the bot lane," shares senior designer August "August" Browning. "We wanted Senna to be a support so she could lane with Lucian, yet we also knew she should have a gun because she had one before getting trapped. There were no support marksmen in the game, so this was an open space for us to explore."
League has one gatling gun, one minigun, one shotgun (with a cigar), one machine gun Kog'Maw, two handguns, two rifles, two rocket launchers, three pistols, and six shotgun knees. But there was still one gun fantasy missing: A BFG.

Senna's massive relic cannon was one of the guiding elements of her design, shaping everything from her concept art to her gameplay. In one of her earliest gameplay iterations, every time Senna used a spell she'd use the blowback from the gun to dash to a new location. But that made her feel more like a mage than a marksman, so August started working on a kit where she wielded dual pistols like her husband.
"As I was doing this, the art team decided to draw the big gun stuff anyway," August explains. "And it was sweet as hell, so I completely killed the pistol kit and went back to the BFG."
While August was working on the gameplay, the art team held a "Senna-dome" led by concept artist Justin "Riot Earp" Albers, where all the artists interested in Senna could draw what she and her weapon could look like.
"We had to think of what the fantasy railgun is," says Riot Earp. "An idea pitched by one of the artists was a gun made up of various Sentinels' weapons, melted down and combined together in some way. And we thought the idea was really cool, so after working on it a little we ended up with a gun made of the lightstones from the other Sentinels captured by Thresh."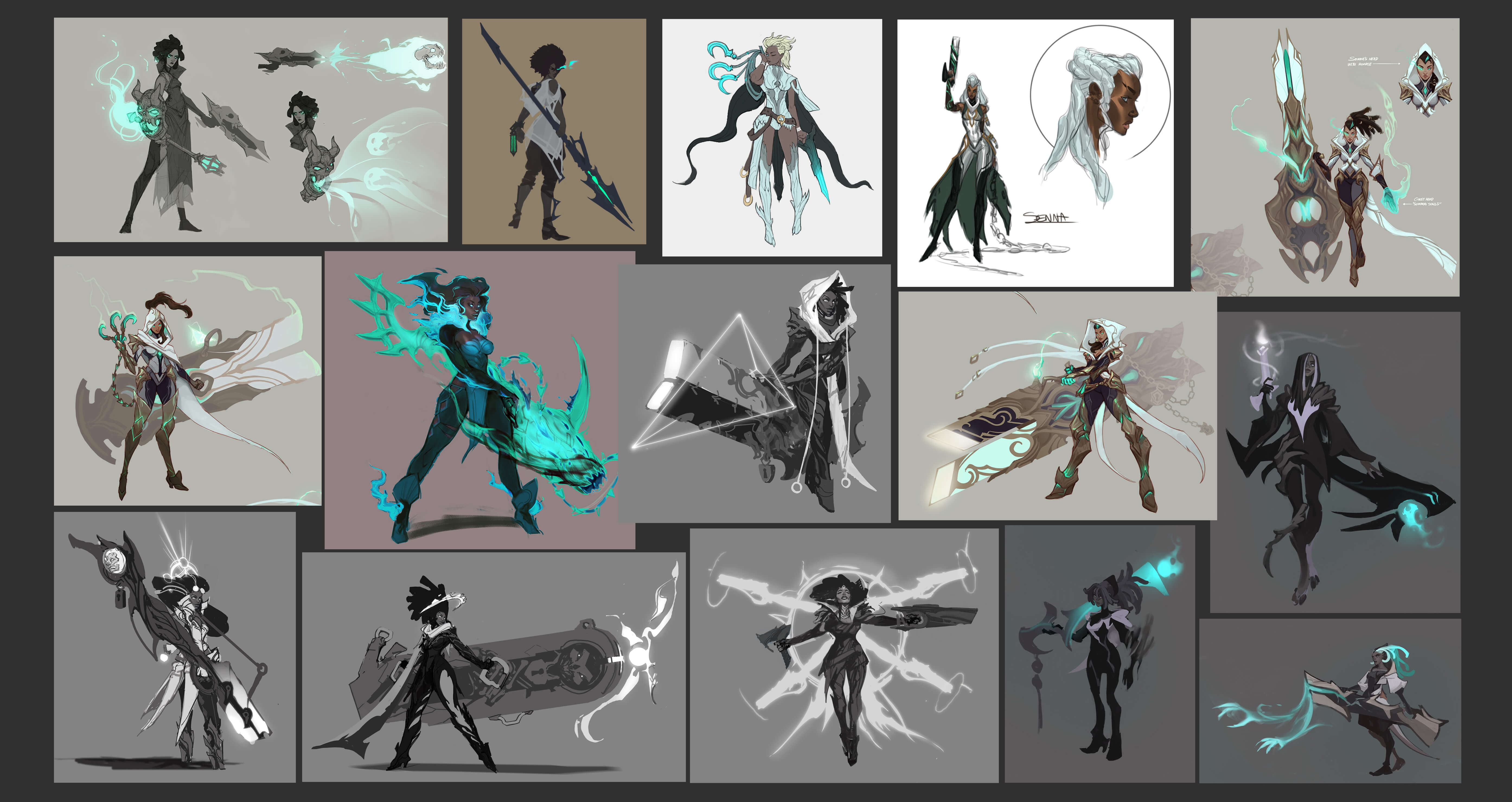 Because League's never had a weapon that can only be classified as an absolute unit, there were a few hiccups when the team tested out the gun in-game. At one point it appeared as if Senna was carrying around Ekko's bat, but at five times the size. Slapping enemies with a giant bat-gun doesn't exactly hit the marksman support fantasy, so the team had to do some creative problem solving to get the animations right.

To give the animators a realistic idea of how someone would move carrying a weapon of that size, one of the members of the team created a to-scale version of Senna's gun. This helped take the animations from bopping enemies with an oversized club to shooting them with a BFG.

With a gun design locked (and loaded) the team was able to turn their focus to another of Senna's design aspects: Who the hell is this woman actually?
There's No Light Without Darkness
Dichotomy is key to Senna's design: light vs. darkness, pre- vs. post-lantern, life vs. death.
Before recently, the only canon depiction of Senna was a frightened woman trapped within Thresh's lantern, but that version of Senna couldn't be the one who was freed. After six excruciating years inside the lantern, she couldn't be the same.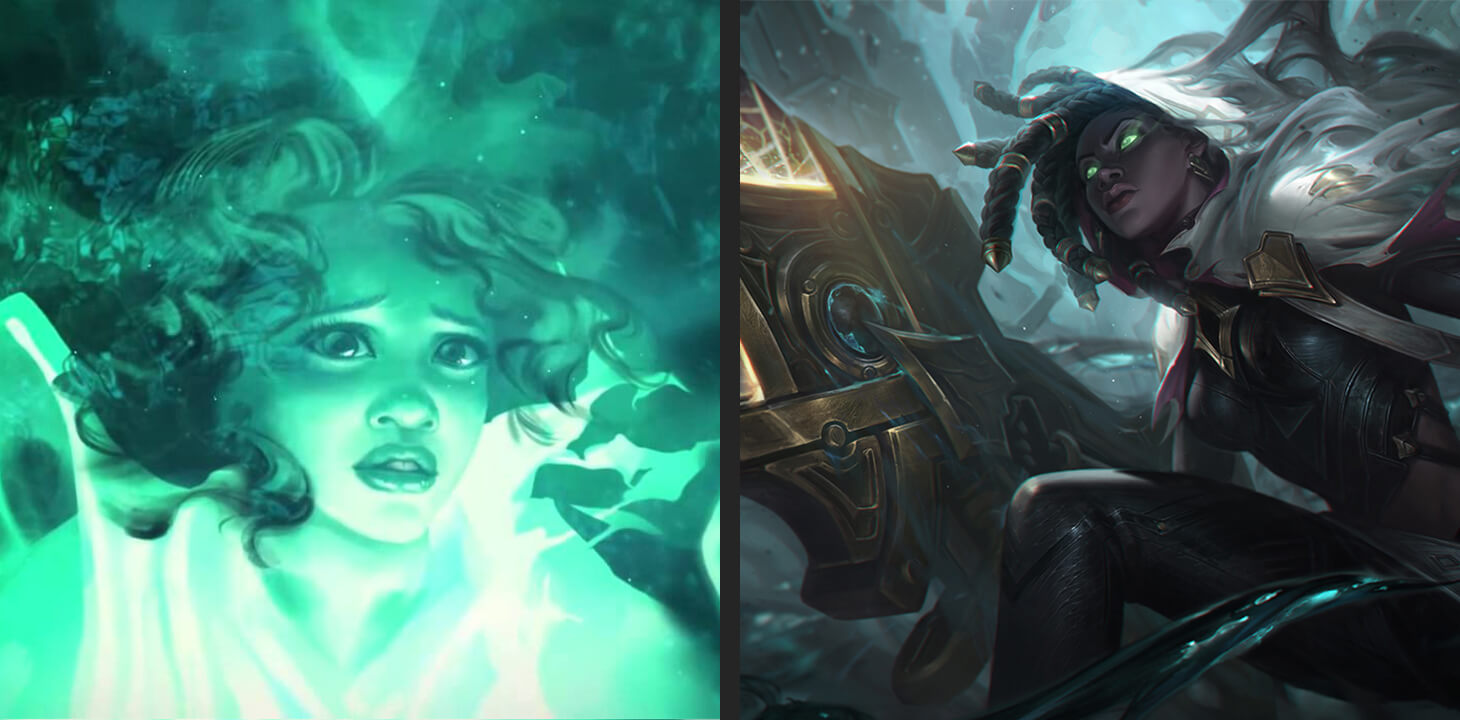 "Everyone thinks they know Lucian and Senna's story," explains senior narrative writer David "Interlocutioner" Slagle. "But all we know is Thresh killed Senna. Going into it, she was a woman defined by her relationship to her husband and her torturer. So we had to figure out what makes her her outside of these relationships."